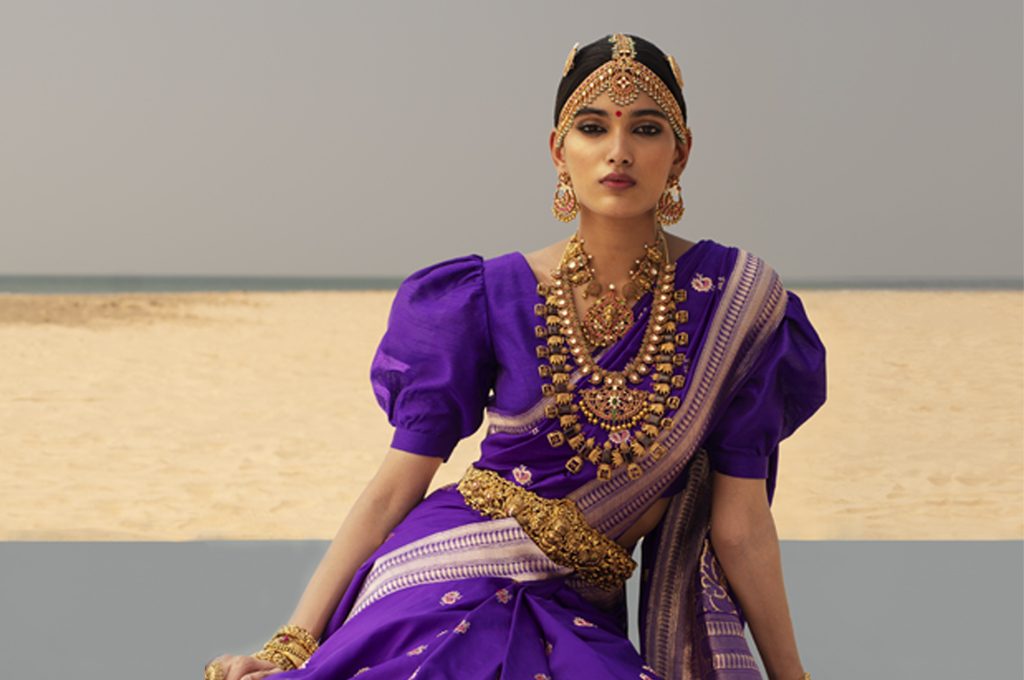 Bridal Trends: Minimalistic Vs. Flamboyant
India is a land of different cultures, traditions, and sub-culture. Different cultures and traditions always have their own style of jewellery which is worn by brides. As we know, an Indian bride is the most attractive bride of all. No one would be able to resist their charm and allure. Let's discuss the cultural different trends of wearing jewellery at an Indian Wedding.
Brides in north India are known for their love of exquisite jewellery. They would like to wear crimson-colored lehengas with an array of uncut diamond necklaces or gold chokers that have little drops of ruby or sapphire lining. On the other hand, northern brides prefer heavy and chunky jewellery, especially in the Punjab area.
The latest jewellery trends in southern India are quite different from the north, a bridal look typically consists of bright or pastel golden weave silk saree, matching gold or uncut Diamond necklace;. A huge trend in the south is toward antique jewellery. The traditional Kerala Jewellery like Kasu-malai, Manga Mala, Palakka Mala, Pulinakham Mala, and a long-chain sported with gold coins flowing from neck to waist are very popular designs and remains a traditional symbol of wealth and status.
Coming to the Western side, wedding jewellery trends are different for Rajasthan, Maharashtra, and Gujarat.
In Rajasthan, brides prefer flower-shaped gold hairpins with a traditional bindi. Earrings include a variety of jhumkas, and a bangle attached with thick gold bands called kadas. The two ends of the bangle resemble elephants of peacock heads.
A Gujarati bride likes to wear traditional Pachikam jewellery. Pachikam is very delicate jewellery and a refined form of Kundan.
In Maharashtra, traditional necklaces are back in vogue. The Hars, Mohanmalas, and the gold-beaded Tushi have now become fashionably popular for the wedding ceremony.
While on the Eastern side, brides only prefer traditional Chik (choker), Chur (heavy broad bangles held together with bars), or the Ratanchur (bangle connected with chains) still reign supreme.
In short, A typical bridal look is built with both minimalist and flamboyant look, bringing out the best of both styles shows the originality of each bride perfectly. If you are interested to purchase gold jewellery online , then
Check out our collection
https://bhimajewellery.com/shop/
If you have any doubt regarding the gold coin rate in Kerala, please feel free to contact us on 9446013733